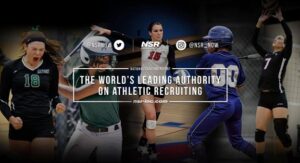 NSR college volleyball scouts will be at Volley Palooza to evaluate athletes desiring to play college volleyball.
Free Volleyball Metrics (2022, 23, 24, 25 and 26 Grad Years) testing will be provided by the NSR college volleyball scout staff in the lobby of Titan. Please have every athlete save the FREE APP to their home screen NOW while you have great internet service and to fill out a quick profile.

 Receive Height, Reach, Approach Touch and Block Touch, Approach Vertical and Block Vertical metrics CERTIFIED for recruiting purposes.
Within the app you can request a college scout to evaluate your athletes play! Get on their radar early!

3 Free Recruiting Seminars (All Grad Years) Hear from NSR Vice President Robert Cagle on the process of Today's Recruiting Process. Facts/Myths, Name Image, Likeness (NIL), Transfer Portal, Q&A. Athletes, Parents, Coaches, ALL are welcome!
Free Informational Seminars
Friday 4/22

6pm-7:30pm Pro Day Sports

Saturday 4/23 – During Palooza (no registration required)

2pm-3pm Titan Sports Bar (Upstairs)
3pm-4pm Titan Sports Bar (Upstairs)
Questions??
Coach Corey Else
NSR College Scouting Staff
Oklahoma Territory
(918) 625-4011
NCAA Approved, NAIA Approved, NSPA Speed and Agility Coach, PPA L1 Certified Vertical Jump Coach, Founder- Pro Day Athlete Development, Voted Best Personal Trainer 2021- Tulsa World